National Volunteer Week Grants
**Applications have now closed**
National Volunteer Week (NVW) is Australia's largest annual celebration of volunteers and celebrates the significant contribution of Australia's almost six million volunteers. Each year these volunteers dedicate over 600 million hours to help others.
Volunteering WA, with generous support from Lotterywest, is offering volunteer involving organisations across Western Australia the opportunity to apply for a grant of up to $1,000 to organise an event which recognises and thanks volunteers during National Volunteer Week (Monday 17 - Sunday 23 May 2021).
The 2021 theme is: Recognise. Reconnect. Reimagine. Learn more about the theme here.
Applications opened 27 January and closed 5:00pm Sunday 7 March 2021.
2021 Recipients
View the 2021 National Volunteer Week Grant recipients here.
Acknowledgements
As outlined in the NVW Grant guidelines, successful grant recipients must acknowledge Volunteering WA and Lotterywest when promoting/discussing your funded activity. Please read the Guidelines for further information.
To download the logos, select the logo link below to open the image, and then right-click with your mouse on the logo and select 'Save image as'. This will save the logo to your computer for use.
Lotterywest Banners & Signage
You can order Lotterywest banners/signage for your event by visiting this site - http://www.impcom.com.au/client/orderform and using the following Grant Request Number (420171463). This is a wonderful opportunity to acknowledge the community support provided by Lotterywest and we encourage you to take up this offer.
Logos
Lotterywest Logo - Perfect for websites, publications and presentations, the Lotterywest supported logo is an important way of letting people know that money raised from the purchase of Lotterywest games has gone towards your NVW event. Lotterywest have a guide to using their logo where you can also download the logo in various formats.
Guidelines
Please read the guidelines below before applying for a grant. The guidelines contain all the information you need to know.
NVW Grant Guidelines (terms and conditions).
Sample letter for multiple organisation application.
Event suggestions and feedback
Below are some ideas you may like to consider for your event and feedback from previous grant recipients. Of course, you are also welcome to come up with your own unique idea.
Quote from St Vincent de Paul Society


"Thank you to Lotterywest and Volunteering WA for a very generous Grant Program. Your contribution to our costs is most appreciated. One of our volunteers said, "I have been volunteering for many years for a wide variety of organisations. I had no idea that saying thank you and showing appreciation to volunteers was such a big thing as it is with Vinnies – I'm overwhelmed to be honest."


Quote from Filipino Community Council of WA




"Celebrating NVW brought communities together. It was actually a very touching moment for the volunteers within the Filipino-Australian community as the event was attended by young leaders and mostly senior volunteers. Senior volunteers told their stories and experiences from the time they started volunteering up to present, young volunteers gained more knowledge and were inspired during the sharing. We were able to show our volunteers appreciation and recognition."


Quote from Perth Observatory Volunteer Group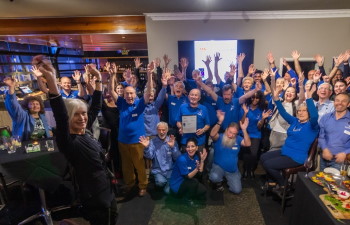 "Thanks Lotterywest and Volunteering WA! We had a great time!"

Quote from Quairading CRC

"Lotterywest are such excellent supporters of volunteer groups across the State and we're so thankful that they provide this opportunity to thank our local volunteers through National Volunteer Week grants with Volunteering WA."


Quote from Western Australian Pet Project

"As a small charity in WA this volunteer outing was not something we could afford without assistance from Volunteering WA and Lotterywest, and we for this are very appreciative."
Merchandise
Volunteering Australia produces a range of merchandise for National Volunteer Week available at the Volunteering Australia online shop.