Grants
There are several opportunities throughout the year to apply for grants or scholarships and we encourage you to check our website regularly or follow us on Facebook.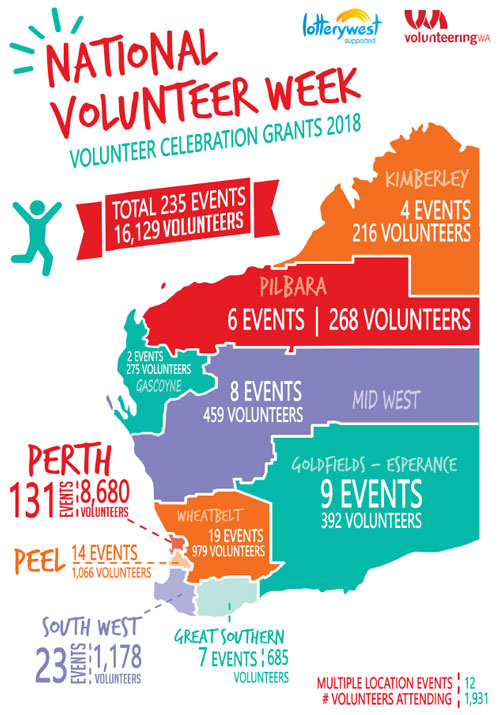 National Volunteer Week
Supported by Lotterywest, each year during National Volunteer Week in May, Volunteering WA offers grants of up to $1000 to be used for organisations to celebrate their volunteers. See our National Volunteer Week page details of the grants and types of celebratory events supported.
Information on how to apply for a grant is available each year in early February.
Scholarships
During the year, scholarships are made available for volunteer managers who are working or volunteering for an organisation that has a little or no training budget available. This scholarship allows a person to attend a series of Volunteering WA Endorsed workshops. For more information about our scholarship program please contact us.
Conference grants
State Conference
Our WA State Volunteering Conference will take place in the second half of 2019. We hope to receive funding which allows for regional participants and organisations experiencing financial difficulties to apply for free/subsidised travel, accommodation and attendance. These will be advertised on our website and on social media.
Information on various other grants
Below are some links to information about grants for volunteer involving organisations
Other avenues for potential grant monies that can be explored include
Local Councils – generally small grants that are easy to apply for.
Government departments
Peak Body organisations
Regional Volunteer Resource Centres

Large corporations
Grant Writing workshop
Do you need help writing a winning grant?
Enquire about our popular two hour Grant Writing Workshop.
Please note that we also promote other grants through our newsletters and social media.